ADAM CRAY JOINS CSG ADVISORS
FOR IMMEDIATE RELEASE
June 13, 2022
A leading independent financial advisor firm of affordable housing, urban redevelopment and economic development initiatives adds a new vice president to their San Francisco offices with 15 years of finance and policy experience.
SAN FRANCISCO – CSG Advisors (CSG) is very pleased to announce that Adam Cray has joined the firm as a vice president effective June 2022 based out of our San Francisco offices.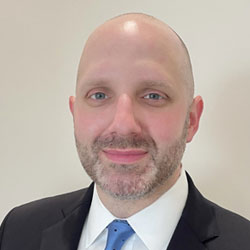 Adam Cray is a senior public finance and affordable housing professional with broad experience as an advisor, banker, bond issuer, and credit analyst for a variety of public-benefit projects and programs. At CSG, Adam will be pursuing the requirements to become a registered municipal advisor to help provide specialized assistance in the development of new affordable housing initiatives. He brings extensive knowledge in multi-family programs, tax credits, down-payment assistance, credit enhancement and strategic planning. Adam joined CSG from Bank of America (BofA) where he was a vice president in the Community Development Banking group. Working in both underwriting and relationship management roles, Adam prospected, structured, underwrote, and closed loans and tax-credit equity investments for affordable multifamily housing.
Before joining BofA, Adam built and managed the Multifamily Securities Program for the San Francisco Mayor's Office of Housing and Community Development, overseeing issuance of $2.8 billion in revenue bonds for more than 5,000 affordable housing units (including the RAD portfolio), creating San Francisco's multifamily bond manual, and designing a successful $260 million general obligation-backed preservation loan program.
"CSG is thrilled to have a talent like Adam on our team. We are confident that his multi-faceted experience will help CSG grow and expand for years to come," Gene Slater, Chairman of the Board. "His passion and commitment to the service of others, both through working with public agencies and his non-profit and charitable endeavors, is at the heart of who we are as a firm." Adam began his public finance career in the U.S. Public Finance Department at Standard & Poor's where he assessed the credit quality of state and local housing finance agencies, public housing authorities, parity bond indentures, and more than 100 affordable housing and structured-finance transactions.
Over the years, Adam has also worked as a consultant and researcher for the Berkeley Program on Housing and Urban Policy, California Homebuilding Foundation, Center for Resource Efficient Communities, Fisher Center for Real Estate and Urban Economics, and HUD. "I do this work because I'm convinced that expanding access to affordable housing is one of the most effective ways to change lives for the better," said Cray. "In addition to meeting the fundamental need for shelter, it dramatically improves everything from health outcomes to educational attainment and serves as a springboard for economic growth and mobility. I'm so excited to join the team at CSG and work with public agencies and nonprofits across the country to create more safe, stable, and affordable housing."
As a member of the Legislative Committee, and former member of the Board of Directors, for the National Association of Local Housing Finance Agencies (NALHFA), Adam has assisted in development of several policy initiatives and served as a subject-matter expert before federal agencies, on Capitol Hill, and at the White House. He serves on the Board of Directors for the Bayview Hunters Point Foundation, a San Francisco-based nonprofit that provides services focused on homelessness, substance use disorders, and behavioral health. He joined the Board in January 2020 and was elected Board Treasurer in February 2022.
A policy analyst and lawyer by training, Adam holds a master's degree in public policy from UC Berkeley and a JD degree from Emory University. Adam received undergraduate degrees from Florida State University where he was a member of Phi Beta Kappa and the Honors Program.
– – –
CSG Advisors Incorporated is a national, full service, independent financial advisor that assists public finance clients in the design, financing and implementation of affordable housing, urban redevelopment and economic development initiatives. CSG has been the #1 financial advisor for affordable housing for 19 of the last 20 years, according to Thomson Reuters. CSG Advisors is entirely employee-owned and independent. Employee owners include minorities and women.